Sweet AI Content For WooCommerce Wordpress Plugin - Rating, Reviews, Demo & Download
Follow for free plugins, new theme releases and theme newsFollow @wp_plugins_dir
---
Plugin Description
Introducing Sweet AI Content for WooCommerce: Revolutionize Your Product Descriptions with AI Magic!
In the fast-paced world of e-commerce, the ability to create compelling product descriptions that captivate your audience is essential. Try "Sweet AI Content for WooCommerce" – your one-stop solution for effortlessly crafting product descriptions that drive sales, enhance user engagement, and elevate your online store to new heights. With "Sweet AI Content," you're not just getting a plugin; you're gaining a powerful writing assistant that harnesses the potential of OpenAI's cutting-edge language models. Here's a closer look at the remarkable features that make it a must-have for WooCommerce users:
Word Count Control
Writing product descriptions that strike the perfect balance between conciseness and informativeness has never been easier. Sweet AI Content empowers you to specify your desired word count, ensuring that each description is tailored to your exact requirements. Bid farewell to the hassle of drafting and editing – let AI do the heavy lifting!
Multilingual Magic
In today's global marketplace, language diversity is key to reaching a broader audience. Sweet AI Content speaks your customers' language, quite literally. With support for over 10 languages, including English, German, Italian, Spanish, Portuguese, Greek, Turkish, Russian, Dutch, French, and Swedish, you can effortlessly expand your market presence across borders and connect with customers worldwide.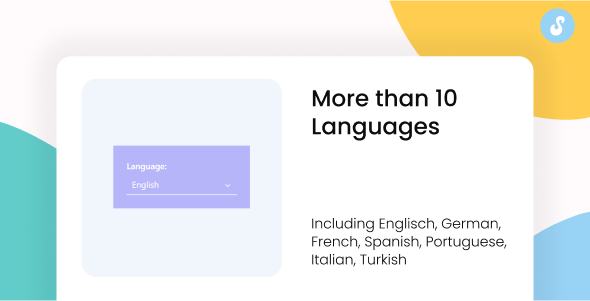 AI Instructions
Tailoring your product descriptions to align with your brand's unique voice and style is a breeze with Sweet AI Content. Our plugin provides a custom text field where you can input specific AI instructions. Whether you want to emphasize a particular tone, storytelling style, or product feature, you have the power to guide the AI to create content that resonates with your brand identity.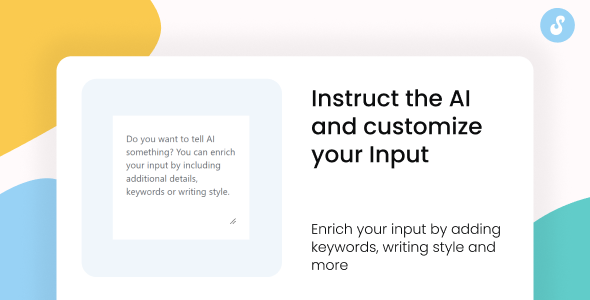 Harness WooCommerce Data
Sweet AI Content seamlessly integrates with WooCommerce, making use of your product attributes, categories, and tags. It understands the intricacies of your products, allowing it to craft descriptions that not only inform but also entice potential customers. Say goodbye to generic, one-size-fits-all content, and welcome a new era of personalized product descriptions.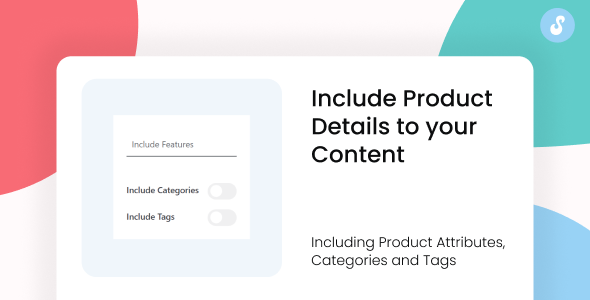 Your Key to Success
To unlock the full potential of "Sweet AI Content for WooCommerce," you'll need an OpenAI API Key. This key is your gateway to harnessing the remarkable capabilities of AI-powered content generation. It's your secret ingredient for crafting product descriptions that stand out and drive conversions.
Experience the Future of Content Creation
Bid farewell to writer's block, laborious product descriptions, and language limitations. With "Sweet AI Content," you'll have beautifully crafted, informative, and engaging product descriptions that not only showcase your products but also boost your bottom line. Harness the power of AI to streamline your content creation process and leave your competition in the dust.
Join the ranks of forward-thinking e-commerce entrepreneurs who are embracing AI to set their online stores apart. Try "Sweet AI Content for WooCommerce" today and witness the transformation of your product descriptions. Elevate your online store, drive sales, and captivate your audience like never before. Unleash the future of content creation – try "Sweet AI Content for WooCommerce" now!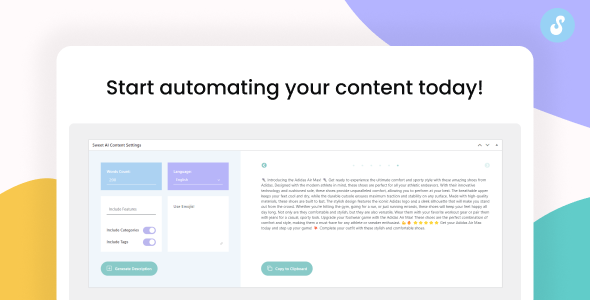 ---